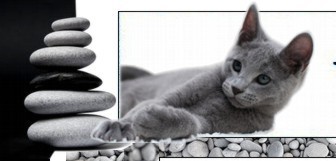 Justin & Leanne Hewitt
We got involved with the Russian breed in 2003 when I obtained a kitten (the ever beautiful Sp Ch Warwick Va Czarina - Sky) from Stephanie Eborall who was then the only breeder of Russians in South Africa.

Justin had previously acquired a beautiful silver grey kitten called Lynx. Lynx was of dubious parentage as a stray kitten we will never know for certain what her parentage was. Sadly I never got to meet this wonderful cat as she went missing before I met Justin.

Lynx was the reason why when we decided to acquire a cat of our own we naturally looked to the Russian breed. She is also the reason why I am insistent that Russian kittens that I sell not be permitted to free-roam. The loss of Lynx was devastating to Justin.

Our second Russian (Ch Azreal Bright Light's Crescendo Kol Rena - Azi) was very quick to follow and being an imported un-neutered boy I discussed the possibility of becoming a breeder with Stephanie... the rest as they say is history.

With the arrival of our pedigree Russians I became involved in the Cat Fancy here in Cape Town. Showing is a lot of fun and I do encourage kitten owners to take their little ones to a show or two. Once the bug bites showing can become a very passionate hobby.

I am now part of the Western Province Cat Club showing committee and SACC head steward for the Western Province.